It's December, which means Christmas, the holidays, and New Year's Eve are approaching. Well, we know you're not getting over that thrilling final like dammit! Anyway, the GOAT debate is done, and Mbappe has won all of our hearts, and you're probably wondering what we're supposed to do now that FIFA is over that is why we are here to entertain you with the latest innovative news on AR/VR, so let us close this year with some fantastic news roundups! But, as you wait for the days when you can finally unwind, enjoy this roundup of the week's most intriguing XR news!
1.The NBA's Official AR Game Launches January 2023
Niantic's next augmented reality game will be available free to play on iOS and Android smartphones.
This past June, we learned that the National Basketball Association (NBA) and National Basketball Players Association (NBPA) are partnering with Niantic, the developer behind Pokémon GO and Pikmin Bloom, on NBA All-World, a location-based augmented reality (AR) mobile game that will have you exploring the real world in search of digital collectibles and interactive mini-games.
We learnt this week that the officially licenced game will be available for iOS and Android devices on January 24th, 2023. The news was made alongside a brief video teaser on the game's official Twitter account.
Check up. ⛹️🙌

01.24.2023#NBAAW pic.twitter.com/I7Cy3giz5Q

— NBA All-World (@nbaallworld) December 12, 2022
According to the crew, further behind-the-scenes footage and player lessons will be provided in the following weeks. As you battle head-to-head with NBA luminaries, you'll need all the aid you can get. As you conquer the virtual court, you'll get access to officially licenced NBA items that you can use to personalise you're in-game character. NBA All-World is set to debut on January 24th, 2023. The game will be accessible for free on iOS and Android smartphones.
2.How Meta is Approaching the Future of work
The parent company of Facebook is shaping the next generation of work
Meta, a leading immersive technology start-up, showed its Meta Quest Pro and Horizon Workroomsapplications last Thursday at its Kings Cross Office in London. The display was designed to demonstrate Meta's objective of influencing the future of work through immersive mixed reality (MR) solutions.
Steve Hatch, Meta's VP for Northern Europe, began the seminar by pointing out how drasticallydifferent some regions work now compared to the Covid limitations of the past. Remote and hybrid working has become more popular since the Covid epidemic. Furthermore, the advent of videoconferencing and new immersive collaboration solutions is supporting firms in taking advantage of remote working arrangements.
Hatch stated:
"Not long ago, the concept of flexible work or remote work was viewed as a bonus, a benefit, or perhaps something a bit less desirable at times. But now, I believe that every organisation recognises that the capacity to operate in more flexible ways that are centred on people is the only way for them to thrive".
Businesses may better prepare themselves to tackle the future of work as a result of a better knowledge of remote employment. Remote or hybrid working is debatably the most effective type of employment with video conferencing equipment. However, remote corporate cooperation is not without flaws. Factors like as Zoom fatigue, a lack of human ties, and a loss of corporate culture pose new challenges for B2B digital service providers to address.
Meta on Work's Future Securing
Many immersive companies, such as Meta, feel that current remote working issues may be solved with extended reality (XR) solutions. Furthermore, many classic digital communications tools are integrated into immersive collaboration solutions and remote instruction systems. An immersive hardware solution might enhance how workers explore applications like Teams or Zoom utilising technologies like smart glasses with eye-tracking.
Meta's product portfolio also seeks to provide the greatest enterprise grade for users and clients. Many factors influence the effective implementation of an immersive collaboration system. Inclusion is critical, and Meta is striving to develop an experience that mirrors the interactions of its users and employees with a business. Horizon Workrooms allows users to portray themselves anyway they want with features such as avatar customization. Horizon users may also customise their avatar clothes to fit different digital social contexts.
Horizon Workrooms in Action
A significant event of Meta's demonstration evening was a hands-on demo of the freshly released Meta Quest Pro and the Horizon Workrooms environment. Meta employees set up two distinct conference rooms, each with a Meta Quest Pro for each attendee. Following a brief orientation, the invited groups entered a shared immersive Workroom environment.
While Meta separated the two groups into different rooms, the immersive avatar and spatial audio systems rapidly captivated everyone. Meta officials also took advantage of the opportunity to demonstrate the hand-tracking capabilities of the Quest Pro. While originally challenging to learn, Meta's hand-tracking system has improved compared to Quest 2. Users must pinch a selected option to navigate menus in the Meta Quest Pro. Again, Quest Pro navigation is challenging at first, however it should be emphasised that hand-tracking technology is still very new, so users can expect a minor learning curve. Meta demonstrated numerous immersive settings at the event. A representative described how a corporation might insert its brand within an immersive workspace to personalise the setting.
The participants were immersed in the scenario, but corporate officials guided the session to ensure it ran well. Of course, not every contemporary firm has the skills or resources to use the Workroom programme at the same degree of proficiency. Meta is collaborating with significant client Accenture to boost the deployment of its immersive workplace technologies across the organisation. Although the display was spectacular, it primarily depicted the level of XR now, rather than future.
3. HTC's VR/AR Headset Will Be Revealed at CES 2023
The mixed reality gadget will allegedly have a lightweight design as well as hand-tracking capability. HTC revealed this week that it would launch a new consumer-friendly VR headset next month at CES 2023 in Las Vegas, Nevada. According to The Verge, the all-in-one VR gadget is being positioned as a direct competition to Meta Quest Pro.

"It's about taking all of these advances that we've made in not just the design components, but also the technological bits, and turning them into something that's significant and compelling for customers," HTC's global head of product, Shen Ye, told The Verge in an interview. According to the rumour, the mystery standalone gadget will have compatibility for both VR as well as augmented reality (AR) activities. Front and side-facing cameras will deliver full-color mixed reality comparable to that of Meta Quest Pro. You can also connect the gadget to a VR-capable PC to have access to more sophisticated material.
Not only that, but owing to built-in hand-tracking, you'll be able to interact with games and applications with your bare hands. Shen Ye added that the gadget is built for gaming, entertainment, and fitness as well as productivity and enterprise.

According to The Verge, the following are some major features:
• Mixed reality in full colour
• Hand-tracking
• 2-hour battery life
• six degrees of freedom (6DoF)
• Stand-alone functionality
• A depth sensor for more sophisticated room mapping
According to XR hardware researcher Brad Lynch, the lightweight gadget might include a modular construction with pancake lenses to minimise its total size. It appears like we will hear more about the
hybrid VR/AR gadget next month at CES 2023.
4.Microsoft announces huge momentum on HoloLens, fully integrates Teams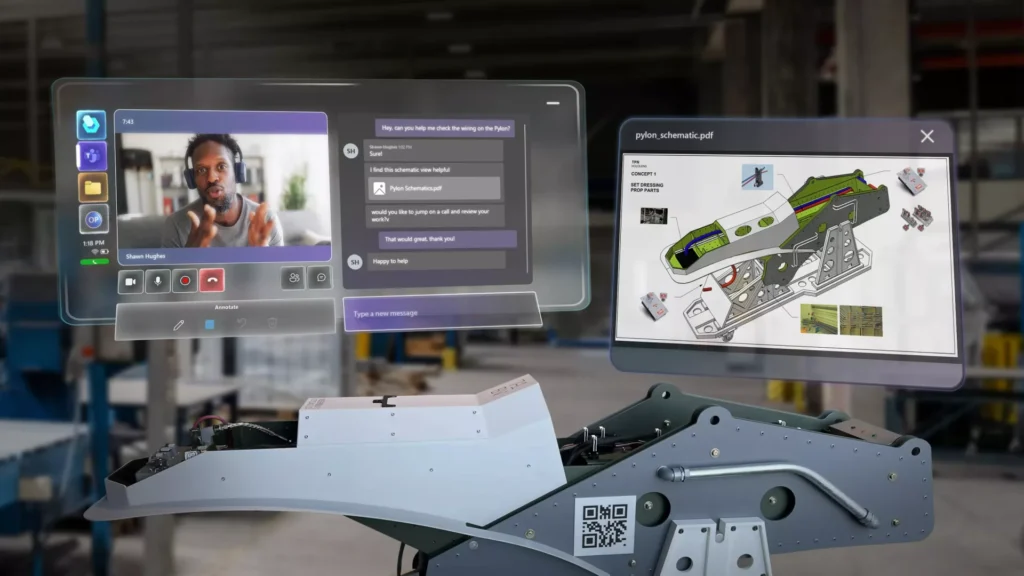 Microsoft has combined several of its collaborative tools for augmented reality.

What you should know
• Microsoft has published a number of success stories related to their HoloLens 2 headgear.
• Dynamic 365 Guides and Dynamic 365 Remote Assist have been combined into a single
experience by the firm.
• Microsoft Teams now fully integrates with HoloLens 2, giving an experience suited for the
augmented reality headset's virtual canvas.
• Microsoft also detailed the HoloLens platform's future, including indications of a HoloLens 3.

Microsoft published a pair of blog entries (opens in new tab) outlining the progress and success of its HoloLens 2. The tech giant has brought together several of its popular services and capabilities to boost cooperation within augmented reality. Full Microsoft Teams integration with HoloLens 2 is the highlight of a slew of collaboration-focused upgrades. Microsoft also highlighted other agreements, including its work with Toyota. The business also talked about, or hinted at, the upcoming iteration of HoloLens. The HoloLens 3, or whatever Microsoft decides to call its future AR headgear, is said to be in limbo.  Microsoft has gone on record today, declaring that the next gadget must represent a "significant" leap in hardware and capabilities.
Microsoft has had collaboration features since the release of the HoloLens, but it is now combining them. Microsoft 365 Guides and Microsoft Dynamics 365 Remote Assist are now available through a
single experience. The integrated technologies allow users to transition between different modes of cooperation, such as Microsoft Teams meetings and leading people through a process using first-
person recording and augmented reality advice. 
"Someone can pick up a HoloLens, launch a Guides session, and have a trainer actually in their mind," stated Scott Evans, Microsoft Vice President of Mixed Reality. "If they do need help, they can call an expert immediately from the app."
Microsoft Teams and Microsoft HoloLens 
The mixed reality toolbar in Teams desktop allows players to mark up the actual environment seen by a HoloLens 2 headset. A person on a desktop can draw on their own screen and have those markings joined in virtual space to the perspective of a HoloLens 2 user. The phrase "electronic commerce" refers to the online sale of products and services. Instead of a single virtual window for Teams, distinct functions can be divided into resizable holograms. According to Microsoft, a user has one window
displaying a shared PDF document and another displaying a video call and a chat thread.

A narrative of pounding a door guard on a car was used to highlight the benefits of HoloLens 2. A worker at a Toyota Logistics Center in New Jersey tried to pound the panel with the proper amount of
power. Using too much or too little power might jeopardise the work. A colleague in California may guide the worker using HoloLens 2, encouraging them to listen for a certain sound and then passing
that tone through. Instead of merely being utilised to assist in a single situation, the experience was filmed using HoloLens 2 and uploaded as a Microsoft Dynamics 365 Guide to assist future personnel.
5. VR mastermind John Carmack leaves Meta for good and goes all in on AGI

John Carmack, the father of virtual reality, is leaving Meta for good. The industry has lost a visionary and a vital voice with his departure.

After portions of the correspondence were exposed to the public, Carmack published his departure letter on Facebook. Carmack, as usual, is blunt in his message to staff. He cites inefficiency and his
inability to alter anything about the situation as causes.

"We have a fantastic quantity of employees and resources, but we constantly self-sabotage and waste effort. The term "responsible tourism" refers to the practise of allowing people to visit a location
without having to pay a fee. It's been challenging for me. I have a strong voice here, so it appears like I should be able to move things, but I'm clearly not persuasive enough."

Carmack, who is tired of battling, claims to have his own business to operate. But the struggle for virtual reality's success is still winnable, he believes. "Enough with the whining. I wearied of the struggle and have my own business to run, but the war is still winnable! VR can deliver benefit to most of the people in the world, and no firm is better positioned to achieve it than Meta."

Carmack's VR career: from pioneer to critic Carmack spent a little more than a decade in the VR sector, changing it significantly. In 2012, the famed coder launched the VR buzz, joined Oculus a year later as
chief technology officer, and continued in that post after Facebook purchased the firm. He spearheaded the development of Samsung Gear VR and Oculus Go, two VR devices that paved the road for Meta Quest.

Carmack's idea from the start was for VR to be self-contained, with no cords, external sensors, or connections to other players. An insight that eventually proved to be ground-breaking, propelling Meta Quest 2 to become the most popular VR headset to date. He stepped down as Oculus' chief technical officer at the end of 2019 to focus on artificial intelligence research. From then on, he worked with Meta as an external consultant. Carmack said in August that he still spent roughly 20% of his work time on VR and AR projects for the firm.

Carmack and Zuckerberg disagree.

The phrase "electronic commerce" refers to the sale of electronic items. The programmer criticised expensive costs and wasted resources in an interview with podcaster Lex Fridman. Carmack is recognised for his honest and open speeches about the state of the business, which he gives every year at Meta's VR and AR conference. In his most recent address, in October, he also discussed the company's failings openly.

On Twitter, he elaborates on his reasons for leaving and alluded to issues with Zuckerberg. "There is a significant strategic divergence between Mark Zuckerberg and me, so I knew it would be extremely
hard to maintain promoting my views within." Carmack now intends to devote his whole career to the advancement of generic artificial intelligence through his AI business Keen Technologies.

We at Twin Reality are currently working on developing latest tech in metaverse and solving major business problems using our AR/VR platforms and we even work with some of major companies
creating event's and apps for them and well if you wish to know more about our company and what we do you can visit our website and visit our collaboration and contacts page that can answer all your
questions.