The Virtual Reality and Augmented Reality market has risen very fast and exponentially, especially in the months of COVID-19. Who would have thought that exhibitions, galleries, portfolios, and other outdoor activities, will become a matter of pure on-screen interaction and user-immersive experience?
There are various other companies that have brought the latest and most updated headsets and web and mobile applications over the past year and a half.
Today, we will be speaking of one such Virtual Reality and Augmented Reality headset, that is specifically designed for use while you lay in bed. There have been very few headsets that one can use while comfortable laying in bed and using. The one which we read in-depth today will work for the same reason.
There is a Japanese firm, which is called as Diver-X. this company is making a headset that is named as HalfDive BMD, or in a more expanded way, HalfDive Bed-Mounted Display. This campaign for marketing is all slated to start this November, that is in a few months. This headset is a bit larger than your regular ones. However, it is completely stable and stationary, which will allow you to rest your head smoothly over a couch or a bed. Now, for those who are a bit lazy or nosy, would love the fact that they no longer have to stand and run around while playing a game.
Given below, is a rough sketch of how that headset will look like, when one wears it:
Well, there is another crux to this matter. If you know that there is a sudden rise in Virtual Reality and Augmented Reality based sex games, you should be knowing why! There is also another chance of people who fall asleep as soon as they hit the bed.
The headset might turn attention for its weird features, but it is equally powerful. Among the other features it has, are a pair of coolers, or fans on the sides of the virtual reality headset. If people think that the noise of these fans is disturbing to them, they might as well shut them off from the settings panel.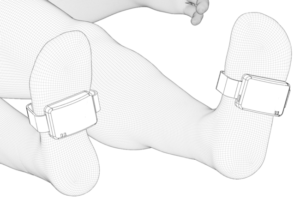 Another pair of cool sensors that these are equipped with are the force feedback sensors, placed at the bottom of the feet, with which the headset is connected to. Say for instance, if you are playing the game of Car or an F1 Racing game, you will actually feel pressing of the brake or the gas pedal against your feet. Similarly, if you are playing a game that involves fighting, or physical activity, you might feel those as well on your feet. Now, isn't this some next-level user immersive experience?
Now, software developers are in for a huge surprise. What if we say, that this headset has an open-source software? Interesting right? Which means it is highly customizable according to the needs and necessities of the user.
The headset is compatible with all types of Steam VR content due to the unique driver and emulation systems of the device. Getting into the hardware at a little more depth, the headset has a couple of 1600 x 1440 resolutions. That too at a fantastic frequency rate of 90Hz, and a 134-degree field view, which is amazing and cool to imagine.
The device also has variable (or adjustable) focus lenses, with aspherical lenses. Now coming to the price of the device. On an average, for a headset which is not fully loaded with features, it should cost you somewhere around USD 800. The highest piece is placed at USD 4000. The average price is around USD 1200, which is slightly on the higher side, for mixed reality devices.
Are you someone who enjoys reading and keeping a tab on the trending technologies of Mixed, Augmented and Virtual Reality? Then, you have come to the right place. We, Twin reality Technologies, are a startup based in Ahmedabad. Our engineers provide a host of services in the domain of Virtual Reality Web and App development.
Even though, we are young, we have had a huge and diversified client base and experience. We would be glad to serve you, and you can get connected with us over our social media handles. Until the next blog post, have a nice day!