HAPPY HALLOWEEN TO ALL! Well, the previous month was very stressful for everyone, and guess what, we're already in October. Just one more month, and we'll be able to utilise Meta's next-generation quest headset. Not only that, but there's this VR/AR wristband called TapXR that transforms any surface into a keyboard. Isn't that cool? Well, we've got even more exciting news heading your way………… Now, let's kick off another dull month with a terrific news roundup.
1. Meta Confirms Next-gen Consumer Quest Headset Planned for 2023
Meta has discreetly stated that their second consumer-focused Quest headgear (presumably dubbed Quest 3) will be available in 2023.
Meta announced on Wednesday that the next consumer version of the Quest virtual reality headset will be available in 2023. In a press statement announcing its third-quarter financial results, Facebook acknowledged the scheduled rollout.
Meta claimed in a statement attributed to CFO David Wehner that Reality Labs hardware prices will rise in the coming months, "led by the introduction of our next iteration of our consumer Quest headset later next year."
Meta's Quest 2 was released in 2020 and has become quite popular. According to IDC, Meta held 90% of the market for VR headsets in the first quarter of 2022. Meta raised the price of the gadget earlier this year, despite no hardware advancements. Meta's significant expenditures in the metaverse enable them to provide unique VR content and technology at reduced prices. Metaverse spending will continue to rise in 2023, according to Meta's third- quarter report.
"We expect Reality Labs operational losses to rise significantly year over year in 2023," Wehner said in a statement. Reality Labs is a Facebook business unit that specialises in augmented and virtual reality gear, software, and content.
Overall, Meta reported a 4% year-over-year decrease in revenue to $27.7 billion and a 49% decrease in earnings per share to $1.64. The number of daily active users on Meta's products increased by 4%.
While the initial Quest and Quest 2 were released within a year of each other, it has already been more than two years since the release of Quest 2, and Meta has yet to openly announce the next consumer-focused Quest headset.
Meta today revealed intentions to introduce the "next version of our consumer Quest headset," likely Quest 3, in 2023, only a day after launching the $1,500 Quest pro. During its Q3 2022 earnings call, Meta offered a brief statement with shareholders, stating that the impending headgear was a driver of Reality Labs' rising operating expenditures.
2. VR Wine Tasting Experiment Lets Users Guess Aromas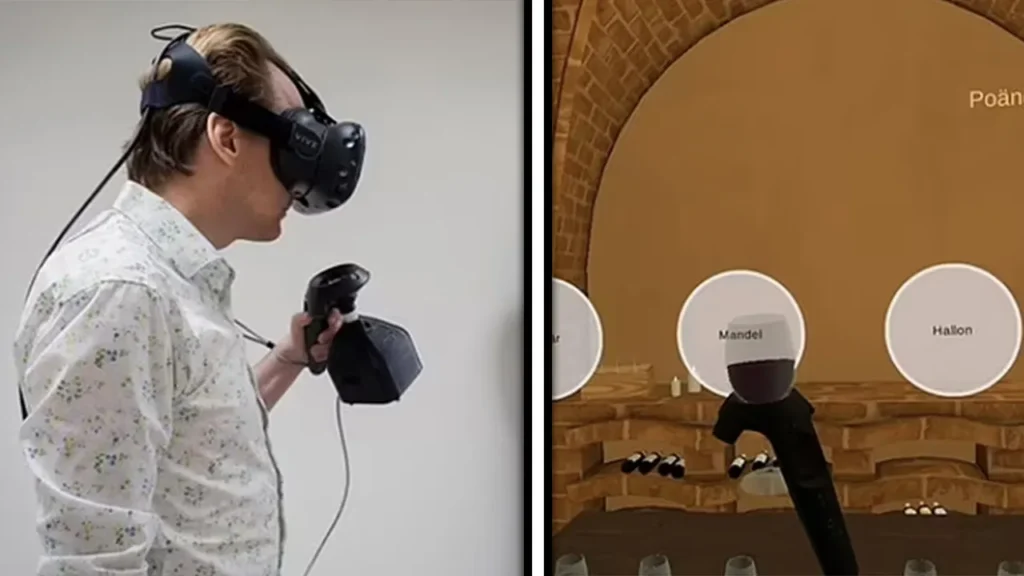 Scent-based virtual reality technology is rapidly evolving.
A group of psychologists from Stockholm University has created technology that allows gamers to smell the virtual environment. The Nosewise Handheld Olfactometer (NHO), according to an article published in the International Journal of Human-Computer Studies, may surreptitiously contain a range of liquid fragrances that can be activated at certain points throughout a VR encounter.
"Our olfactometer enables concealed (i.e., unknown to the user) odor-virtual object and context combinations, making it well suited to applications involving active sniffing and interrogation of objects in virtual space for recreational, scientific, or therapeutic functions," the researchers write in their paper.
Unlike other fragrance-based VR gadgets, the NHO is meant to attach to the HTC Vive's motion controller to "output perfume to the hand, coupling actual odours to a synthetic VR scene." To showcase the technique, the researchers created a VR wine-tasting experience in which test subjects were asked to estimate different wines based on eight distinct fragrances. Participants were able to submit their replies through four virtual circles hovering above the table after releasing the odours by pulling the trigger on their HTC Vive controllers.
To avoid odour cross-contamination, engineers vented clean air through the gadget for 10 minutes before each session. The wine-tasting experience included four difficulty levels in all, with the greater the difficulty level indicating a more complicated odour blend. Eight distinct fragrances were presented to participants: clove, blackcurrant, raspberry, chocolate, pineapple, almond, grapefruit, and pear.
"We intend to design new, more natural interactions that may enrich human olfactory experience by inventing new technologies that enable enactive smelling while simultaneously articulating the potentials of scent training for recreational, scientific, or medicinal applications," the researchers said.
3. Google Launches Blockchain Node for Web3 Scalability
Google launched Blockchain Node Engine for its Cloud environment on Thursday. The new version of the company supports Web3 scalability by easing the self-distribution and self- management of decentralised data.
A blockchain node is a critical piece of infrastructure that records network transactions and data flows. Google Cloud's Blockchain Node Engine provides a node-hosting service that relays transactions, deploys smart contracts, and publishes blockchain data to assist Web3 developers. A Web3 developer that uses Google's solution receives access to the company's dependability, performance, and security. The Ethereum blockchain has been integrated into Google Cloud's Node Engine, allowing developers to establish and operate Ethereum nodes with secure blockchain access.
In addition, in early October, Google announced a cooperation with Coinbase Cloud to incorporate the former's technology with Google Cloud's decentralised architecture. This step further broadens and improves the interoperability of Google's and Coin base's blockchain marketplace reach.
The Advantages of Google Blockchain Node Engine
With its solution, Google provides developers with a simplified blockchain administration pipeline. For Web3 developers, deploying blockchain nodes is typically a time-consuming procedure that comprises providing a compute instance, installing a blockchain client, and synchronising nodes to the network.
Google's engine accelerates this process by allowing developers to deploy nodes as a single operation, allowing them to select a preferred location or network for distribution. In addition, the service offers a variety of security setups to prevent unauthorised organisations from accessing blockchain nodes. To complement its privacy protections, Google Cloud employs a Virtual Private Cloud firewall mechanism, which only enables trusted computer devices to access client endpoints.
Blockchain developers, according to the company, may leverage its other security platforms, such as Cloud Armor, to boost privacy and minimise DDoS assaults. Google Cloud has a staff that monitors the blockchain platform and responds with outages. According to the company, its service level agreement (SLA) allows developers to prioritise consumers above infrastructure.
Web3 Scaling
The announcement comes as a number of corporations and technology organisations emphasis on supporting upcoming Web3 and blockchain infrastructures. Many industry professionals feel that Web3 and associated technologies have the potential to improve how people work and live.
Salesforce, for example, provided Cloud Pilot for long-term NFT minting and distribution for brands and marketers. The service reduces the barrier to entry for Web3 crypto and NFT
trading by allowing customers to engage with regular payment methods rather than a crypto wallet.
OpenSea, a very successful NFT marketplace, has ramped up NFT trading significantly by offering standard payment systems in April, allowing anybody to engage in Web3 economics. In September, OpenSea teamed with Warner Music Group to re-engage with its following. The platformO also has important collaborations with Web3 and Metaverse enterprises, such as STYLY, where the marketplace provides an easy entry point into the digital economy.
4. VR/AR wristband TapXR turns any surface into a keyboard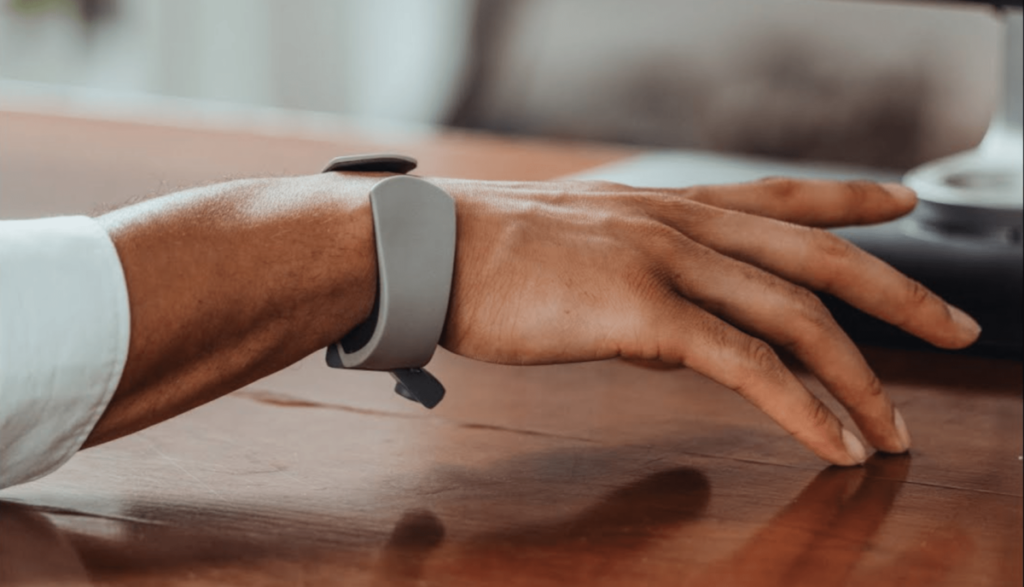 Tap Systems has spent years developing novel input devices that allow you to type even when you can't see your hands in VR headsets. Tap your fingertips on any surface, and the system will turn the movement into text or other input. The technique might potentially be used to provide input to AR headsets.
Users had to wear five linked rings over their fingers for the "Tap" model, which was revealed in 2018. These were Bluetooth-enabled and linked to a receiver, which was subsequently connected to a smartphone or PC, for example. The new TapXR model of the finger keyboard requires simply a wristband, which connects with the corresponding device through Bluetooth.
Virtual reality keyboard wristband
The gadget detects finger motions without the need for personal calibration. The company claims that the recognition is 99 percent accurate. Buyers can begin immediately, but they must first learn the inputs. They touch their fingertips on a surface that looks like Morse code and creates printed text.
This works both on a table and on the user's own arm or thigh. An inertial measuring unit (IMU) has six degrees of freedom of motion (6DOF). This enables the bracelet to work exactly in any situation, such as with the fingers against a wall.
"Users will now be able to type, pick menus, and engage more quickly, without weariness, and with tactile feedback," stated Tap CEO Dovid Schick. This allows for a far larger use of XR in areas such as productivity, commerce, and the metaverse."
According to the manufacturer, skilled users may achieve up to 70 words per minute even though the device only works one-handed. To be sure, a traditional two-handed keyboard is still speedier.
Suitable for VR, AR, and other applications
Tap Systems also shows two-dimensional application areas: A graphic designer uses a stylus to sketch on a tablet and taps additional commands on the tabletop with her fingers at her sides. The wristband works with any Bluetooth-enabled machine and is compatible with a wide range of operating systems, including Windows and Apple. Meta Quest, Windows Mixed Reality, Hololens, Magic Leap, Pico, HTC Vive, and Realwear are all compatible VR and AR systems. The manufacturer promises that the battery will last 10 hours or 14 days on standby.
The more advanced technology comes at a cost: whereas the predecessor cost $180, this time it will cost $299. Worldwide shipping is scheduled during the first quarter of 2023. There will be two sizes and six colours available.
Meta is also looking at the Metaverse wristband.
Meta is also working on a bracelet that can turn even little finger movements into inputs. However, acceleration and motion sensors are not being used. Instead, it use electromyography and machine learning to identify electrical muscle activity.
The less the hands and fingers have to move, the better the algorithm is taught. The technology then decodes the signals that are already present at the wrist and translates them into digital commands. Meta demonstrated the present status of their input wristband in an excellent video at Connect 2022.
Even we at Twin Reality are working on such metaverse concepts and we can use this wrist band in our metaverse events and Twin Reality even creates VR/AR events and even VR apps for your business and provides every possible solution and consultation for your queries regarding metaverse , AR/VR technology.