Virtual reality has arrived and is quickly gaining popularity, so it is no longer the stuff of science fiction. Virtual reality is growing steadily and is projected to reach a market size of more than USD 28 billion in 2022. Over the next 10 years, it is forecast to develop at a 15% compound annual growth rate (2022 to 2030).
Even if virtual reality isn't a brand-new innovation, its use is anticipated to increase throughout time, along with that of other digital innovations like augmented reality. According to PricewaterhouseCoopers, VR and AR have the potential to increase the global GDP to USD 1.5 trillion by 2030.
Such technologies are being adopted by more companies in a variety of industries for employee training, the testing of new or current processes, and the development of new goods.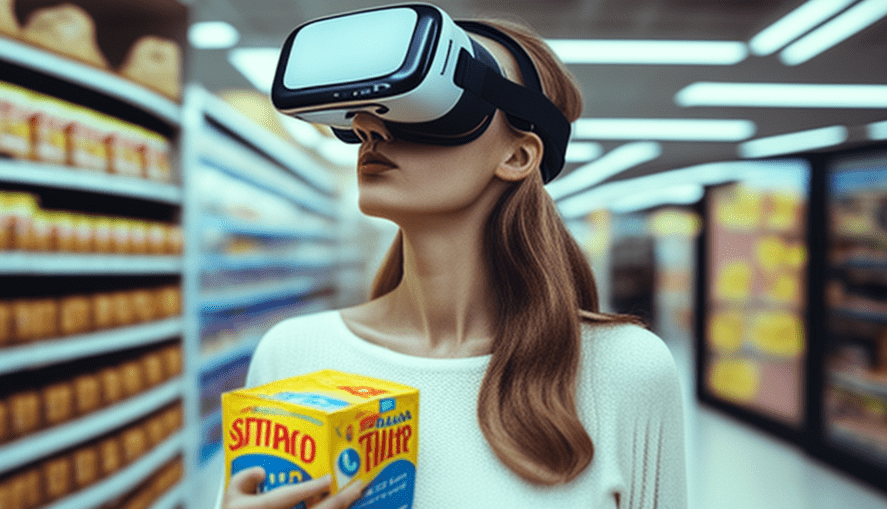 The use of virtual reality technology in marketing initiatives is known as virtual reality marketing. It can be utilised to engage your audience more effectively and connect with them. For instance, customers can interact with a virtual character rather than reading text on the screen.
Virtual reality marketing has significant opportunities for organisations to promote their brands, boost sales, and increase consumer loyalty and retention. It is branded together as immersive media along with augmented reality.

Using VR headgear or programs, users can access a realistic, immersive simulation of an environment that engages many senses. VR can be used, for instance, to apply a filter on a picture or a video. Consider the filters on Instagram and Snapchat. In the meanwhile, users with VR headsets can "transfer" to a 3D virtual setting, improving the simulation's experience. The user can gaze around in the virtual environment (360-degree view) and interact with the various digital components of the simulation since the headgear reacts to their movements.
Marketing Opportunities With VR
Virtual reality marketing can assist marketers in creating compelling campaigns that effectively convey your brand's story and your products or services.
Through VR, you may demonstrate both the development of new items and the use of already-existing ones. This gives customers a closer look into how you create your products, which might help you gain useful customer feedback . Emotional involvement can be increased through virtual marketing.
Also, the arrival of VR heralds the development of more intuitive and immersive content as well as better content marketing tactics. By enabling consumers to virtually try on things before buying them, VR allows marketers to reimagine how they deliver experiences.
The real estate sector is one of the most well-liked real-world applications of virtual reality. The use of virtual tours by businesses and brokers allows customers to virtually visit a house, look around, and get a sense of how it might be to live there. VR can also be used to exhibit a home that is still under construction, giving potential buyers a preview of what it might look like once it is finished and equipped.
Virtual real estate is another way that VR is advancing into the metaverse. Platforms for the metaverse like Sandbox and Decentraland let consumers buy virtual goods and gain early access to the metaverse.
1. VR Helps Businesses Grow
Limitless chances for promotion are presented by virtual reality, which enables businesses to connect with and reach out to their potential customers beyond traditional media like TV and magazine commercials.
Virtual reality technology, or the newest technologies in general, can assist close the gap and give brands the ability to address their consumers' shifting pain points because customers' demands and expectations are continuously changing.Businesses can build branded digital environments to demonstrate their goods or services using virtual reality marketing. Instead of actual experiences, brands may provide digital ones. This enables customers to virtually test-drive a product or service in the convenience of their own homes. You're enabling customers to interact by creating a realistic digital environment.
You may utilize VR to develop fresh experiences that give customers a fresh perspective on your business. For instance, you may utilize virtual reality to give customers a tour of your facilities and give them an exclusive, up-close look at what happens behind the scenes. You may demonstrate how you operate or what happens throughout the creation of a design or product. This adds a more human element to your brand and what you do while fostering trust and transparency, which can increase customer brand loyalty.
3. More memorable experiences
Customers may more easily visualise your items and how they can improve their lives using virtual reality. Customers can access a digital environment you've created using VR rather than just looking at samples, giving you the opportunity to illustrate what you have to offer in real time and how it might be a solution to their problems.
Conventional advertising can quickly become monotonous. They don't produce memorable experiences, and some advertisements, like pop-ups, may even turn away potential buyers because they feel spammy.
5. Your products in a new light
When used properly, virtual reality is a powerful technology that can produce tangible effects. Businesses can use it to differentiate themselves from the competition and stay on the cutting edge of new developments. Businesses may stay current in light of recent technology advancements by adopting VR early.
6. Implementing 'pehle istemaal kare fir vishwas kare'
Users can decide more wisely if they may try on a thing before buying it. Businesses are embracing virtual reality to let customers try on clothes, makeup, accessories, and even furniture without physically visiting a store.
Walmart offers online clothing shoppers a virtual try-on experience that is powered by AI. This tool creates a simulation to help customers visualize how garments might appear on them using AI technology such as real-time image processing and deep learning. Customers can virtually try on several Walmart clothing options by choosing a model that closely matches their height and size.
It's not just for games and pleasure to use virtual reality. It is a potent and adaptable instrument that has entered the marketing sector. Virtual reality is already being used by early adopters to give novel content promotion strategies, enabling them to produce interesting and memorable material for their consumers. Although we haven't yet realized its full potential, the ways in which various businesses and sectors are already utilizing virtual reality can give us a sneak peek at what this cutting-edge technology is capable of.