Nothing more than a crisis can reveal the true nature of an institution, and the present pandemic is no exception. 
COVID-19 has had an impact on every element of enterprises and lives as we know them now due to the collapse of the economy and the loss of several lives. 
The crisis has had a serious impact on businesses in a number of sectors that make up the foundation of our economy, including oil and gas, power, the automotive industry, construction, etc.
Automotive and associated industry businesses have suffered more than ever as a result of the lockout. 
Enterprises cannot afford accidents, unplanned downtime, and low productivity while dealing with such major difficulties since these factors have a direct impact on their ability to serve their clients, which has an impact on revenue and profits. Human mistake is to blame for around 80% of all events.
Fortunately, cutting-edge technology is providing realistic and efficient solutions to overcome such obstacles.Immersive technologies like Virtual, Augmented, and Mixed Reality (VR/AR/MR) are such technology that companies are aggressively embracing.
Virtual Reality creates a simulated realistic environment as part of Industry 4.0, often known as the Fourth Industrial Revolution, which successfully tricks your brain into thinking you are somewhere you are not. 
VR transports the user to a world that has been constructed virtually using a clever combination of technology and software.
How can this Smart Manufacturing technology be efficiently utilized to meet future CEOs, COOs, CTOs, and CFOs' aims for sustainability, dependability, and safety in the digitalized economy?
Let us delve into the practical adoption and applications of Virtual Reality in the sectors identified below.
1. Industrial Workforce Training using VR
Since virtual reality technology satisfies a variety of needs generated by a competitive environment, it has found broad use in oil and gas, manufacturing, and processing businesses. 
First off, it has been shown to significantly contribute to increasing staff productivity through efficient VR training sessions.
Based on validated case studies, VR-Training increases knowledge retention by 75–90% compared to conventional classroom-based training, which only achieves less than 20%. 
The retention of safety, compliance, and job skills is crucial for many firms, thus effective training of a workforce is a significant task. The workforce has ample time and chances to develop competency thanks to VR-based training solutions, saving them the cost of taking risks in the real world.
Second, VR is the finest substitute for classroom and field training in the current environment for achieving social distance. Here, with little to no human touch, trainees can swiftly pick up and apply their virtual learning experience and procedures in the real world.
Until the necessary competencies are attained, the training can also be repeated.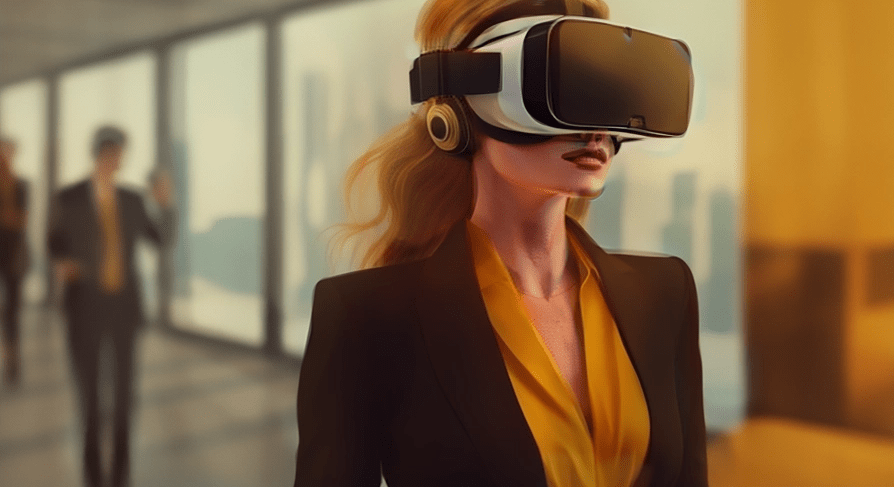 2. VR-based healthcare training
The globe demands and requires a high level of medical ability to handle the ongoing pandemic. Thus, proficiency in the healthcare sector is becoming even more important for the country.

VR-Simulation modules can be used by the healthcare sector to teach doctors, nurses, and other healthcare workers in-depth clinical procedures, safe practices, and medical protocols.

This lessens any hazards associated with the expected inflow of COVID-19 patients in this country and around the world. The immersive VR environment vividly presents information and knowledge, and learning is accomplished instantly.
3. Events, conferences, and exhibitions online
Due to businesspeople being unable to meet, the events and exhibits sector was also severely impacted by the shutdown. In these situations,
The industry is using interactive virtual events to safely arrange conferences and seminars without human interaction. 
Visitors and professionals can virtually walk through exhibition booths, engage in marketing conversations, contact vendors and corporate officials, and experience product offerings. 
Without leaving the security and comfort of your home, you may do all of this and more.
Industry 4.0 solutions are rapidly becoming a "necessity" in the post-pandemic world as a result of the existing circumstances. 
This will put Industry 4.0's suite of next-generation solutions, particularly Augmented, Virtual, and Mixed Reality (AR/VR/MR), in the spotlight and possibly increase demand.
Businesses have recently encountered unforeseen difficulties, notably those relating to a lack of competent labor, rising production risk, resource downtime, and a lack of an appropriate technical roadmap to increase efficiency. 
Immersive VR, AR, and MR technologies will help create skilled workers while lowering risks to increase production in an industrial context. This is a crucial stage in restarting the manufacturing process.