Many of the Fundamental Oil and Gas Problems can be Solved with AR and VR
The oil and gas sector has always been exposed to significant and wide-ranging risks, including those related to politics, legislation, volatile markets, and physically demanding locations, to mention a few. But the problem is more complicated than ever today.
With the price drop and volatility of the previous five years, a new normal marked by prudence has emerged. 
Companies are placing a strong emphasis on efficiency as a way to generate value, a goal that requires highly competent personnel. Large numbers of senior workers are leaving as the sector goes through a crew turnover. 
As a result, the need for a diminishing pool of experienced workers is growing, and businesses are finding it difficult to capitalize on their knowledge.
Also, the industry-wide pace of operational change has sharply accelerated. Shale technology has reduced the turnaround time to months or even weeks, as opposed to the past when upstream assets were assessed through a time horizon of 10, 20, or even 30 years. 
Time compression demands solutions that allow people to work remotely rather than requiring them to fly to far-off places. 
The bottom line is that businesses must work at previously unheard-of speeds while managing tighter budgets and fewer staff members.
With so many forces acting in opposition to one another in the past, it would have been impossible to carry out such a mandate. New technologies, though, are altering that.
Particularly, some businesses are starting to use augmented reality (AR) and virtual reality to address these difficulties (VR). More people could gain from making more active use of these technologies.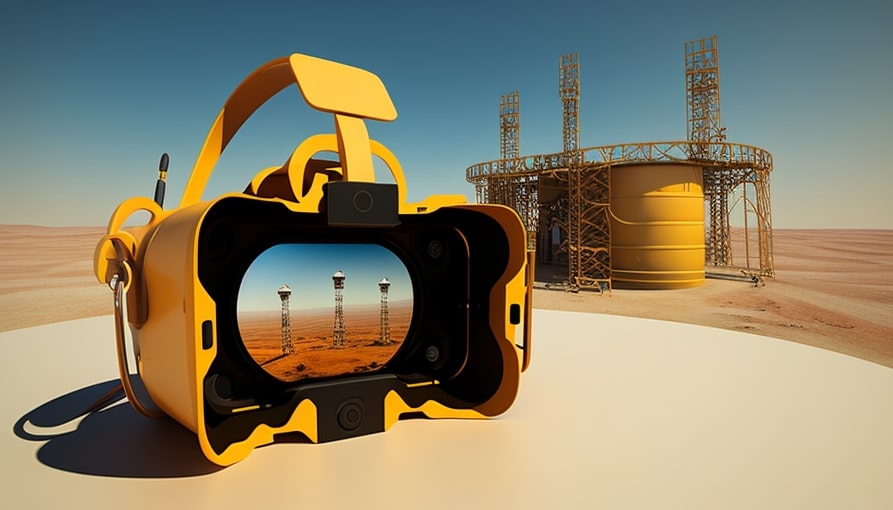 What are AR and VR, exactly?
Both of these technologies allow for virtual visualizations, which let us view things that aren't actually there. This is how they are similar to one another. However, there are some significant differences.
With the use of a tablet or headgear that the user may point at actual items, augmented reality (AR) overlays digital components onto the real world.
By projecting directions onto the physical store, augmented reality (AR) can improve big-box store navigation or lead customers toward a product.
By digitally simulating a sofa in the appropriate location, augmented reality helps us visualize how furniture might look in our homes. Virtual creatures can appear in the real world in games like Pokemon Go thanks to augmented reality.
VR immerses the viewer in a virtual environment that blocks out the real world, as opposed to AR, where the user may still see their physical surroundings.
By simply donning a headset, VR can theoretically place a user in the cockpit of a space shuttle or the driver's seat of a race car, allowing them to move around in an authentic-looking, three-dimensional environment.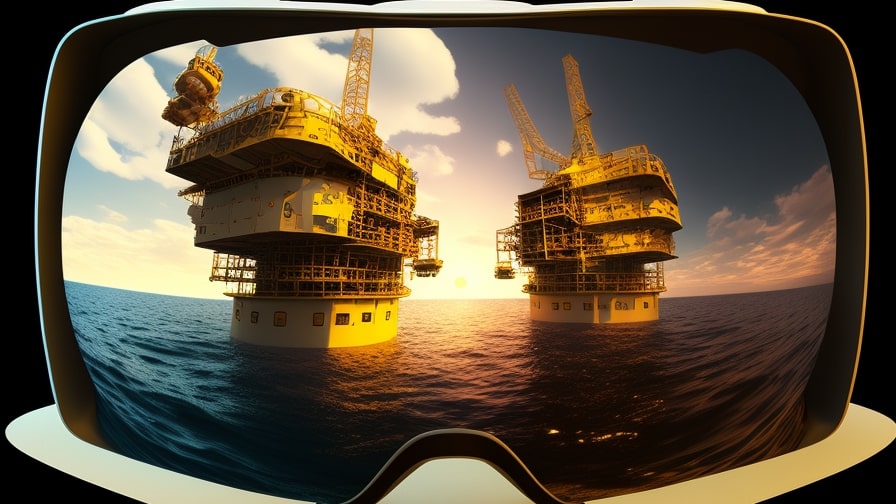 Applications of AR/VR in oil and gas
In the workplace, AR and VR are applied in a number of contexts, such as planning, maintenance, and training. 
In the oil and gas sector, AR headsets that attach to hard hats can show instructions a technician needs to do an inspection or maintain a system on equipment without using their hands.
By clearly illustrating the necessary actions, tools, and components, precise AR animations significantly increase productivity while lowering mistakes and ambiguity.
Additionally, they can offer checklists, sensor data, and a visual representation of which components need adjusting, removing, or replacing. AR makes it possible for this information to be graphically given when and where it is needed, rather of relying on manuals.
AR can assist technicians in planning equipment modifications. One company employed augmented reality (AR) to enable mechanics to envision exactly where the cable would need to go and how it would need to be fastened when faced with the problem of installing a cable in a complex set on a ship. This made it crystal clear what difficulties they would encounter.
Remotely placed experts can communicate with general support staff and practically watch their backs using AR headsets with two-way communications. 
This can be done in real-time, high-definition video. Using the same technology, procedures can be recorded for quality assurance and future use.
Other AR applications can display the inside workings of a piece of machinery, helping technicians better understand how to make adjustments. 
Combined, these qualities assist businesses in coping with the lack of skilled labor and lessen the need to fly such labor to remote locations. An AR system can significantly speed up the team's ability to locate and address the root cause of an incident.
Training is a crucial area where VR is used in the oil and gas industry. Trainees can utilize a VR headset to visit a setting or engage with a piece of equipment virtually rather than learning theory in a classroom or flying people to far-off places.
As trainees on a virtual rig turn their heads to the side, they see what they would see on a real-world rig, creating an immersive experience similar to that of video games. 
Given the intricacy of refineries, drilling platforms, and processing plants, the chance to engage in lifelike training prior to accessing these environments is priceless, and businesses save money by eliminating the need to fly trainees to the locations.
Engineers can remotely monitor generators, pumps, compressors, and shale shakers using VR apps that are connected to sensors. 
This offers diagnostics at a fraction of the cost which is quicker and more accurate. In order to better decide where to explore, geoscientists are utilizing VR to visualize seismic data and even to virtually drill.
Status of AR/VR in oil and gas
Similar to the internet and smartphone revolutions, AR/VR adoption is being driven by consumers, notably online gamers. 
The manufacturing, aerospace, retail, real estate, educational, sporting, and healthcare sectors have all seen a rise in the use of these applications.
The use of AR/VR in the oil and gas business is still less aggressive than in other industries. Businesses are beginning to experience success in refineries using AR/VR, particularly for maintenance and inspections. 
Businesses are starting to realize benefits in downstream industries like retail, employing AR and VR to gain a more thorough and intuitive understanding of their locations.

We think the oil and gas sector is ideally positioned to benefit from AR/VR for the following three reasons:

First, a lot of data, generally from sensors, is what industrial AR/VR thrives on. These sensors have been widely used in the business for a long time, whether in wells, refineries, or other locations. Due to the widespread use of these sensors, a vast amount of data is accessible for use with AR and VR.
The second factor has to do with how that data is kept. In the past, it frequently had a proprietary format that made it challenging to use for auxiliary reasons. 
That is currently altering. Producers are increasingly combining the operations technology systems they employ to monitor and manage equipment and processes with their data-centric information technology systems. 
Data is now easier to access than it always was thanks to this IT/OT integration, which makes AR/VR use possible, for upstream and downstream applications.
The rise of digital transformation in the sector and the change to a customer-centric mindset—whether the "customer" is a drilling engineer at a well site, a maintenance engineer in a refinery, or a patron in a retail establishment—are the third and fourth reasons. 
Prior to this, the design philosophy was to prioritize efficiency over the needs of the consumer.

Managers can therefore benefit from using AR or VR to better understand how these clients interact with the equipment or the store. 
Companies can then simplify, streamline, or otherwise improve processes to give a better experience by adopting a design-led mindset.
As previously mentioned, AR/VR has the ability to significantly lessen the industry's significant issues. 
The industry is also ideally positioned to benefit from the technology due to a number of variables, including the volume of data, the increased availability of that data as a result of IT/OT conversion, and the movement toward digital transformation.
Why then has the industry been so sluggish to adapt?
The most important element is the industry's pervasive conservatism, which has valid reasons. It makes sense that the business has been slow to shift given the vast quantities of money involved in every component as well as the complex and varying risk profiles. 
You might lose a customer or some money if a new technology fails in a retail environment. In contrast, there is a serious risk of an environmental catastrophe or human fatality in the energy sector. 
This necessitates that any new technology undergo a much more thorough testing process, and in some circumstances, additional equipment is required to make sure that the new technology can withstand the challenging conditions that are characteristic of a field setting. 
There is frequently a stricter standard as well.
Furthermore, oil and gas field locations can be far apart. The difficulty in obtaining the necessary network bandwidth to retrieve the data essential for AR/VR applications from these far sites is much greater than in any other business.
Yet, in order to persuade clients to take the technology into account, we highlight its success in other fields that deal with delicate risks. 
The primary application of AR/VR in healthcare is to train surgeons and respond to emergencies in remote areas, among many other uses.
 The healthcare market for AR/VR was valued at US$ 933.1 million in 2018 and is anticipated to grow to US$ 3,192.2 million by the end of the forecast period, according to a market study.
The difficulties mentioned above can be overcome by a consortium of providers, as has also been observed in other industries.
With the help of system integrators, oil field service providers, network providers, hardware providers, and others, the industry has received these solutions. 
System integrators like Infosys will have to take the initiative in this, but as oil and gas executives become more aware of the advantages of AR/VR, the technology will swiftly become a necessary tool for competitive advantage.