HTC has been teasing a new VR headset for several weeks. YouTuber Brad Lynch claims to have obtained information on the design and technology.
Lynch obtained photographs of the VR headgear from industry insiders, notably those in the supply chain. Lynch had 3D artist Marcus Kane construct renderings of the gadget based on those pictures to protect the sources of the leak. Lynch has previously collaborated with Kane on his Quest Pro leaks. Kane had to take design liberties in several parts since the photographs released to Lynch did not show the headgear from all sides.
A Mix of Vive Flow and Vive Focus 3
HTC's latest headset is yet to be named. Lynch refers to it as the HTC Vive "Flowcus" because it combines the HTC Vive Flow's design and small form factor with the HTC Vive Focus 3's technological capability (review).
The housing is visually similar to the Vive Flow and features pancake lenses, thus the headset itself is fairly small. Technically, the gadget is far more powerful: It functions totally autonomously, much as the Vive Focus 3.
As a portable PC, Vive Flow still required a smartphone. According to Lynch's sources, the integrated SoC is "far quicker" than the Snapdragon XR2 Gen 1, which is used in Meta Quest 2 and Vive Focus 3, among other games.
Lynch's sources were unable to determine which chip it is. The Snapdragon XR2 Gen 2 is the most probable contender, and it is expected to be introduced tonight. It might provide up to three times the graphics performance of the previous generation CPU. According to Lynch, the HTC Vive "Flowcus" is a complete 6-DoF headset. As input devices, the Vive Focus 3 controllers are employed. Although Vive Flow had 6-DoF, it only had a 3-DoF smartphone controller.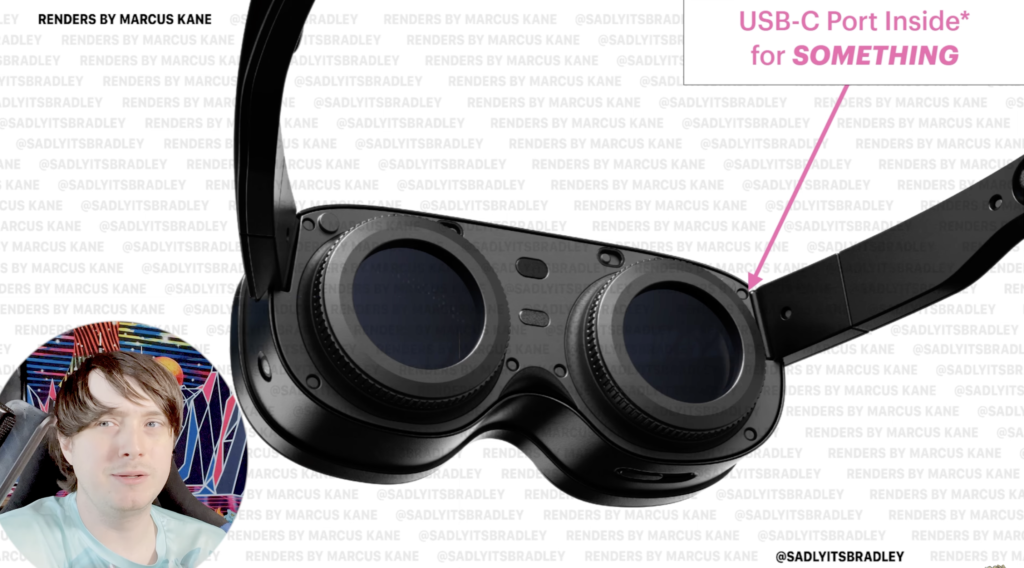 Colour passthrough and diopter adjustment are now available in the new Vive headset
HTC's latest headgear, like the Pico 4, includes four tracking cameras and an RGB sensor. colour passthrough is said to be available with the HTC Vive "Flowcus." The VR headgear contains two integrated LC screens with 1,920 by 1,920-pixel resolution and a maximum refresh rate of 120 hertz.
The HTC Vive "Flowcus" incorporates what is perhaps the nicest feature of the HTC Vive Flow: a visual acuity adjustment right on the lenses, allowing you to select your diopter number without the need for a headset or contact lenses. In contrast to the HTC Vive Flow, the lens
distance may be changed via a physical slider. A light shield may be attached to the enclosure for complete VR immersion.
The new HTC headset is compatible with both PC and USB-C connections
The modular design of the HTC Vive "Flowcus" is one of its most intriguing features: the back component of the head mount, which also houses the battery, can be replaced.
This enables the gadget to be utilised as very lightweight glasses for on-the-go use, with a USB-C connection connecting it to an external player (such as a smartphone or PC) (see cover picture). The temples may be folded down like genuine glasses in this "glasses mode."
The audio is provided via inbuilt stereo speakers. Lynch The HTC Vive "Flowcus" also features a USB-C connector, according to Lynch. This might be for eye and facial tracking modules, similar to the Vive Focus 3, allowing the headset to be updated with hardware features in the future.
According to Lynch's sources, the device will be released in early 2023 at a cost to customers. Since HTC is not known for subsidizing hardware, the headset will probably not be cheap anyway. According to Lynch's insiders, the price will be less than $1,000. HTC could unveil the device in January at CES 2023. 
We at twin reality create custom VR solutions for users where they can experience metaverse using headsets and HTC headset can be a game changer in this domain and we are so excited to get our hands on this new HTC headset and for those who have no idea what Twin Reality is about well ! worry not we got you covered , to begin with we are company where we offer various services related to metaverse like creating VR/AR apps and creating virtual events and providing business solutions related to metaverse, well that's all folks if you still want to know what we do……..make sure you visit our website where you can find all answers to your questions and feel free to reach out at us.